About us
Outwest Tours is based in Westport and is owned and operated by Mickey and Doreen Ryan assisted by five staff. They have operated specialist visitor tours in the Buller region since 2001 using three, purpose built, all-weather 4WD vehicles.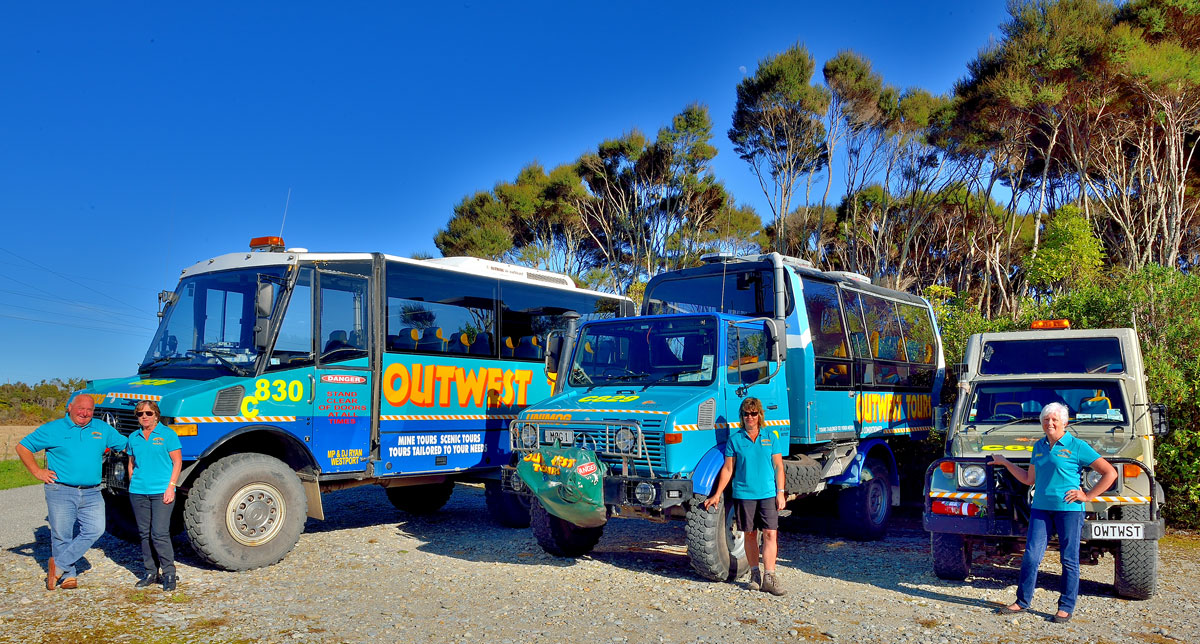 Meet your guides (left to right): Mickey and Doreen Ryan, Rebecca and Cheryl – the epitome of West Coast hospitality and down-to-earth charm. With years of travel and driving experience, and local knowledge, they'll give you an authentic sense of local history and culture.
Their extensive knowledge of the region and off-road driving skills means that you can be sure of an adventure you'll love. You'll travel in comfort in their custom-built 4WD Mercedes Unimogs through swift mountain streams, along beaches and into pristine rainforest.
The strength of the Outwest team lies in their knowledge of local history, including natural history.
Their West Coast charm comes across in their storytelling and the high vantage points of the seating in the vehicles ensures no view is missed.
All vehicles are interconnected for the informative commentaries with each journey taking a minimum of six travellers and a maximum of 50. Toilet facilities are accessed on route and visitors are advised to bring refreshments such as sandwiches and also wear sturdy footwear.
Outwest's vehicles are all certified to NZLTA five star levels.
---
Vehicles
Mercedes Unimogs
An ex-army vehicle, these Unimogs are built to handle the toughest driving conditions. They have been professionally converted into luxury all-terrain passenger vehicles, and feature clear sides for the best views. Seats are comfortable and all vehicles are air-conditioned.
Toyota Landcruiser
The Landcruiser is a high-powered, comfortable vehicle, perfect for smaller touring groups. Seating up to eight passengers, it is available for private charter.