Stockton Mine Tours
Mining and tourism, working together. Tour through the Bathurst Resources Stockton Opencast Mine site on the Stockton Plateau.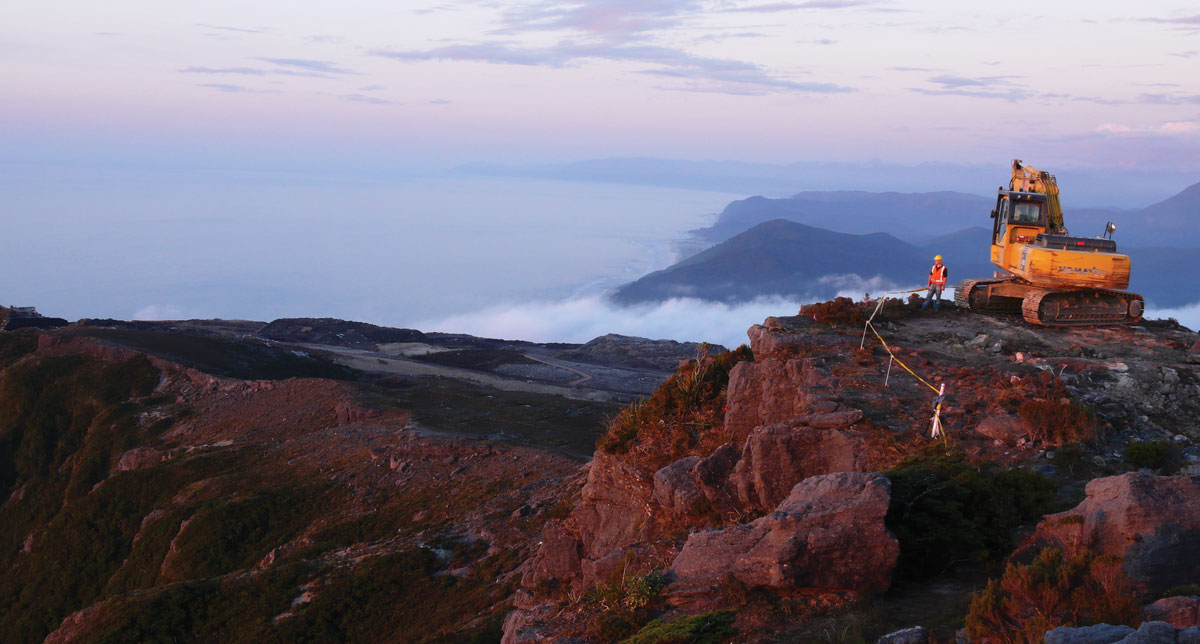 Outwest Tours is currently the exclusive operator of tours through the Bathurst Resources Stockton Opencast Mine site on the Stockton Plateau. Departing from Westport, this 5–6 hour tour passes through several small towns and climbs to the Plateau, delivering an off-road adventure along the way.
At Stockton Mine, the largest coal-producing mine in New Zealand, visitors learn about the life of a miner and some of the mining processes such as removal of topsoil, blasting, removal of overburden and, very importantly, site rehabilitation after mining is completed.
Enjoy eating your packed lunch (not provided) in one of the smoko rooms on the mine. You'll get a real sense of the daily workings of a mine site. During the tour you'll enjoy stunning views of the Tasman Sea to the west and the Southern Alps to the east, before descending from the Plateau and visiting the aerial ropeway which takes the coal down to the rail loading facility at Ngakawau. The tour returns to Westport at about 3.30-4.30pm
---
Tour details
This trip is sponsored by BT Mining
| | |
| --- | --- |
| Duration: | 5-6 hours |
| Departure time: | 9am |
| Departs from: | Westport i-SITE Visitor Centre (see map) |
Children must be 4 years or older. Under-14s must be accompanied by an adult.
Trip is weather dependant.
---
Please note:
Departing from Westport, this tour passes through a range of terrains and weather conditions can be variable. It can move from hot and sunny to cold and wet with poor visibility within a very short time, so please dress for a range of conditions.
For your safety, these tours are very weather-dependant which means they may be cancelled at short notice. It makes sense for visitors to have an alternative plan in mind in case of cancellation.
Please tell us if you have a medical condition that may require attention. As this tour covers rough off-road terrain we reserve the right to refuse bookings if you have certain medical conditions.
School trips to Stockton Mine
Bathurst Resources is proud to support Outwest Tours and help New Zealand school children to experience a modern mine in action. The Stockton Tour takes pupils through one of New Zealand's largest opencast mines and delivers an educational experience in a region with a rich primary industry heritage. The tour is run by experienced operators who are former miners, and delivers sound information on historic and modern mining, rehabilitation and environmental practices. It's an ideal educational field trip for pupils aged about nine years or more, and their teachers.
To learn more about Bathurst Resources, coal and mining, visit www.bathurst.co.nz/our-operations/stockton/
---
What to bring
Sturdy covered footwear (no sandals, jandals or exposed feet)
Clothing that covers arms and legs
Lunch and non-alcoholic drink (hot water supplied)
Your own cup if you require a hot drink
Camera
Any medications
Safety gear, including hard hat, protective glasses and high-visibility vests are provided and must be worn